Kuroko no basket review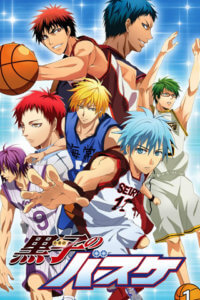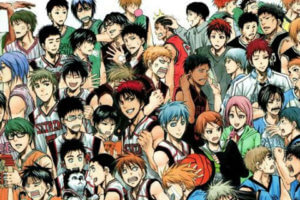 Synopsis
Teiko's middle school basketball club has risen prominently, having won three consecutive championships and against every team that has ever attempted to best them. In this club is a group of 5 regular players, short of nothing but "rare basketball prodigies" with outstanding talents and potential. So amazing, they're dubbed "the generation of miracles". However, it is rumored that there exists a legendary sixth member, recognized by the other five. This phantom sixth man; Kuroko Tetsuya now in an obscure school; Seirin high school, encounters Kagami Taiga, the tall, hot-headed, passionate and talented basketball player who just arrived from America. Together with the Seirin basketball team, and kuroko promising to be a "shadow" to Kagami's "light" vie to become the best in Japan. Even if it means going against the dispersed members of the "generation of miracles" who possess insurmountable talents and oppressing feats.
Plot
I'm not really a sports anime fan, neither much of a basketball fan, but I must say, what a show!
I was most reluctant to watch this anime due to my apathy for sports anime. I prefer action, creative abilities and interlocking plots, hence I believed, sports anime, somewhat portraying realism would lack the amazing and creative elements of dramatic action and fierce but exciting abilities, but it turned out, I was wrong. Kuroko no basket possessed these creative and dramatic displays of awesomeness as well, which leads quite a lot of people to criticize it for its unrealistic portrayal of the sport. Even I, not really being a basketball fan could see the unrealistic delivered setting, but hey, if you wanted realism, why not go watch a game. It's a shounen anime after all. If anything, I would say, the unrealistic portrayal is what made the show so interesting.
Seeing how wrong I was in thinking the series would be plain and boring further made me interested and absorbed in the story. The flashy power-ups pass, unbelievable dunks and overall squeaking of the sneakers across the court as characters performed absurd dribble motions further adds to the excitement of the show as well. Although the plot is not a complex one with twists, tangles, knots, and whatnot (lol), it's still rather enjoyable. It's not a storyline you'd have to think so much about. In fact, it had a pretty cliché "I-want-to-be-the-greatest" center. Even so, it still managed to be truly captivating and intriguing, something that one would want to look forward to. It was an interesting idea; the underdogs; seirin high school, rising from the bottom and going against the "OP" miracle generation. It was fun to see and be expectant when it seemed like they would lose (knowing that they wouldn't though), and they instantly shoot through their difficulty in some manner and with some maneuver. This makes the gameplays a little repetitive though, but this downside was drowned by a lot of "whoa moments and shocking reveal.
Adding to the excitement are the well-executed themes of perseverance, commitment and ambition employed which creates a relatable setting, despite the unrealistic approach and display.
Characters
This is one of the facets I like and enjoy about kuroko no basket. It has really nice and progressive character development. Despite the fact that the characters are designed simply, there's still a sense of uniqueness to each.
The contrasting character traits of kuroko and Kagami also drive some balance and an overall decent filling. Kuroko, all cool and seemingly physically useless but mentally sound and Kagami, an excellent and talented player who's a complete hothead with still much to learn. The members of seirin basketball team were fun too, each having a distinction in personality that allowed for a connection between viewer and character. And the fact that a girl was also the coach was quite interesting to see. Even though it might be a little awkward, but I believe, that awkwardness in itself birthed a uniqueness that further incited interest and "fixated attention". The members of the generation of miracles too, although outrageous in some ways were more relatable in others. I like how each was designed uniquely (hair color mostly, giving them a rainbow-like distinction) which further separates them from the "less revered" players and characters.
Art, Animation, and music
The art and animation are not all that superb, but at the same time, just right for the theme of anime. Although, I believe there were times the animation was stoic though (animations with so much moving characters might not have been easy, budget and all), it still turned out all right in the end. I like how kuroko's passes were made to look like blue neon lights and the flickering of Kagami's eyes and other members of the generation of miracles like lightning when in the zone (hihihi). The fluidity was okay by me and the pace was acceptable.
The sound wasn't all memorable though, I could only pick out the opening songs and I guess a few OST's were not that bad but were often repeated. They still did the work at the times needed though, so I guess, that's still a pass.
Rating
The anime, like I said had a pretty cliché plotline but still managed to be interesting at every turn and with every episode, I'd give a rating of 7/10. Really though, it's exciting enough to watch. Enjoyment is definitely guaranteed.